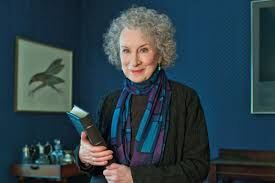 Margaret Atwood (1939 -present) poet, novelist, and women's activist and has made a name herself through her views on women in society by writing. 
Biograpghy

[

]
Atwood was born in Ottowa, Canda but grew up in Ontario, Quebec, and Toronto. She went to school at Victoria College, University of Toronto, to get her bacholers degree, Radcliffe College, Cambridge, Mass., to recieve her masters, and Harvard University, Cambridge, Mass. She has written over forty pieces, whether it be books, poems or critical essays. She is the mother of one and currently resides in Toronto with partner, Graeme Gibson. Atwood was President of the Writers' Union of Canada from 1981 to 1982, President of International P.E.N., Canadian Centre from 1984 to 1986, and is the Joint Honourary President of the Rare Bird Society within BirdLife International with Gibson. She is also currently the Vice-President of PEN International.
Notable Works

[

]
Atwood's work consists of novels such as Cat's Eye, Alias Grace, The Blind Assassin, Oryx and Crane, and Surfacing but is most none for her novel, A Handmaid's Tale, due to its recent Hulu series adaptation. The Handmaid's Tale is "a dystopian novel originally published in 1985, set in a near-future New England, in a totalitarian, Christian theonomy that has overthrown the United States government." The novel explores a world which has degressed in women's rights. Birth rates have diminished and the only way that is thought to fix this is enslave women who are still blessed with the abliity to reproduce, forcing them to procreate with powerful men in this new government to further the human race. Members of the LG
BTQ+ community are considererd "gender traitors," and are forced to reproduce or are put in concentration camps. Those who dissobey are either tortured or executed. Though many follow this new way of law, there is a secert society of men and women who smuggle people out of the United States into Canada and are continuouly planning a revolution to free all those who are oppressed. This novel, though fictional, is agruably relevent to today with our current situation with women's rights and the constant attempts of limiting women's accessiblity of Planned Parenthood's resources as well as the discrimination of members of the LGBTQ+ community. Atwood discusses this parallel in her speech made at Variety's Power of Women event, held in New York on April 13, 2018. Her works have consitantly represented women as powerful members of society and persistant.
Contoversy

[

]
Though she is well known for her feminism, recently she has been accused as a "bad feminist" due to her statements in regards to the #MeToo movement. She has been criticized for supporting Steven Galloway, a former employee of the University of British Columbia and one of many accused of sexual misconduct. She compared the movement to the Salem Witch Trials and later stated in her essay, "Am I A Bad Feminist," "Another point against me is that I compared the UBC proceedings to the Salem witchcraft trials, in which a person was guilty because accused, since the rules of evidence were such that you could not be found innocent," and went on to explain how this movement has made a turn for the worse. She finishes her essay stating, "A war among women, as opposed to a war on women, is always pleasing to those who do not wish women well. This is a very important moment. I hope it will not be squandered." Despite her critisisms, many also aplaud her for her courage in pointing out the idea that one is innocent until proven guilty. Atwood has stood by her views that, "not all women are innocent and not all men are guilty." She has always belived that no gender is superior and that women will never get equal rights until that is realized by everyone.
Quotes

[

]
"Don't let the bastards grind you down."
"Men are afraid that women will laugh at them. Women are afraid that men will kill them."
Bibliograpghy

[

]
"Am I a Bad Feminist?" The Globe and Mail, The Globe and Mail, 15 Jan. 2018, www.theglobeandmail.com/opinion/am-i-a-bad-feminist/article37591823/. 
Atwood, Margaret. The Handmaid's Tale. McClelland & Stewart, 1985. 
"Biography." Margaret Atwood, margaretatwood.ca/biography/. 
"The Handmaid's Tale by Margaret Atwood." Goodreads, Goodreads, 16 Mar. 1998, www.goodreads.com/book/show/38447.The_Handmaid_s_Tale. 
"Margaret Atwood - Full Power of Women Speech." Youtube, 19 Apr. 2018, www.youtube.com/watch?v=o1pqlsJhY9k. 
"Margaret Atwood Discusses Feminism (1997)." Youtube, 12 Nov. 2017, www.youtube.com/watch?v=xB-5l0i8DTE. 
"Margaret Atwood Explains Why Her Stance on #MeToo Movement Got Her Labeled a 'Bad Feminist.'" Women Into The World, 16 Jan. 2018, womenintheworld.com/2018/01/16/margaret-atwood-explains-why-her-stance-on-metoo-movement-got-her-labeled-a-bad-feminist/. 
"Margaret Atwood." Wikipedia, Wikimedia Foundation, 10 May 2018, en.wikipedia.org/wiki/Margaret_Atwood. 
Miller, Bruce. "The Handmaid's Tale." The Handmaid's Tale, Hulu, 26 Apr. 2017.