Jurassic World: Dominion Dominates Fandom Wikis - The Loop
Play Sound
Biography
[
]
Maria Brink was born in 1977 and grew up in Schenectady, New York. While she is rather vague when she discusses her childhood with reporters, it is very clear that she dealt with traumatic events at an early age. Her father sexually abused her and left her at an early age, which left Brink with her mother, who was heavily addicted to drugs. Following her traumatic childhood, she struggled with severe depression and turned to drug usage herself in order to cope with it.
She gave birth to her son, Davion, at 15 and worked in a launderette to pay rent. However, this did not cause her to give up on her dream to become a musician. In 2002, Brink made the decision to move to Los Angeles when she found that local band projects were not working out for her.
In This Moment
[
]
While many screamo/heavy metal bands were looking for singers, women were considered ineligible for audition. Maria Brink worked for two years at different stores, and would sing in bars and coffee shops to make money for herself and her son.
The current In This Moment guitarist Chris Howorth was auditioning singers for his band at the time, Dying Star. When Howorth found out that Maria Brink was a woman, he refused to hear her audition and told her that the band was not interested. After being told "No." so many times, Maria bring refused to back down. She burst into one of his rehearsals, grabbed the mic, and started singing. Realizing how talented of a vocalist she was, he apologized and signed her up as a singer. Thus, Dying Star changed their name, and In This Moment was born in 2005.
Women in the Metal Industry
[
]
The metal industry has been a male dominated industry for a very long time, and Maria Brink is credited to be one of the first women to show that women can belong and thrive in this industry. She shattered the gender norms commonly associated with metal, which is the belief that only men can perform screamo, and opened the door for more female artists in the metal community. 

In 2018, Maria Brink, Lzzy Hale of Halestorm, Ash Costello of New Year's Day, and Alecia Demner of Stitched Up Heart are embarking on a female driven US tour in order to empower female rockers, as well as female fans alike. In an interview with Loudwire, Maria Brink commented on the tour: 

"I am very excited about being a part of such an empowering, divine, female-fronted tour. It is very rare in rock music to have a movement like this and the timing couldn't be more perfect. Lzzy and I are already discussing the possibility of more tours like this in the future. Let the Amazons rise!" (6)
Blood and Black Widow
[
]
The albums Blood and Black Widow are by far two of In This Moment's most popular albums, and are also the two albums that contain important feminist messages. The song "Whore," located on the Blood album is a song about empowering female sexuality and take a normally degrading word and turn it into something powerful. Brink took the word and turned it into the acronym: Women Honoring One another Rising Eternally. For Black Widow, Brink decided to create an overarching theme for her songs. The songs contain messages of being strong and powerful when society wants you to be meek and beautiful, as well as bringing attention to issues regarding how religions can see women as well. 
Controversy
[
]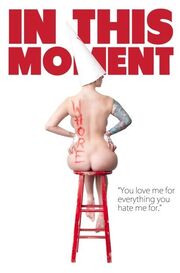 For the song "Whore," Maria Brink made the decision to pose nude for the imagery that goes along with this specific song. She sits on a stool with her back towards the camera, WHORE written on her back, and a dunce cap on her head. Brink discussed the provocative image with BraveWords, saying:

"I decided to pose nude for the visual art for 'Whore' to evoke a raw vulnerable emotion. The word Whore written down my back, and the dunce cap symbolize me placing myself on the stake for those who are suffering and I can only hope to encourage at least one person to find the self worth and love they deserve to transcend out of a painful situation into a beautiful one. It is about finding our power and taking a stand. We are resilient beings and need to realize our incredible strengths. I will not bow down to others perceptions of me; I will only rise in the name of art, love and music. "  (3)

However, there were many people that did not like this imagery. Fans believed that Maria Brink was using her naked body to get attention for the band, and becoming a sex symbol as opposed to an empowered women. They believed that her naked body was meant to drive album sales up, so in a way her body was being used as commodity. 
Sources
[
]

1. http://www.uberrock.co.uk/interviews/54-march-interviews/14111-maria-brink-in-this-moment-uber-rock-interview-exclusive.html
2. https://www.theodysseyonline.com/maria-brink-pay-attention 
3. http://bravewords.com/news/in-this-moment-vocalist-maria-brink-i-decided-to-pose-nude-for-the-visual-art-for-whore-to-evoke-a-raw-vulnerable-emotion
4. https://www.famousbirthdays.com/people/maria-brink.html
5. https://en.wikipedia.org/wiki/Maria_Brink
6. http://loudwire.com/in-this-moment-halestorm-2018-tour/